Bay Tree Cottage
Walsingham
New
Sleeps 6, from £555 to £1105 per week
Bay Tree Cottage is a lovely Norfolk cottage, located within The Old Vicarage, refurbished to a high standard and set in stunning grounds. It is conveniently situated in Little Walsingham which has the ruins of two mediaeval monastic houses and is within easy access of the North Norfolk coast.


Accommodation
Front
Front
Driveway
Entrance
Living area
Living area with stairs
Living area
Comfy sofas
Living area mirror
Kitchen/dining area
Appliances
Kitchen/dining
Open plan
Dining table
Kitchen
Dining to entrance
Landing
Landing to bedroom 2
Bed 1
Bedroom 1
Bedroom 1
Bedroom 2
Bed 2
Bedroom 2 to ensuite
Ensuite
Bed 2
Ensuite
Bedroom 3
Bedroom 3
Bathroom
His n hers sinks
Bathroom
Bathroom
Shower
Patio
Garden
Paddocks behind
Paddocks behind
Horses
Garden
Garden
Patio doors
View to garden
Looking down
Bay tree cottage
Door knocker
Ground Floor
Entrance hall.
Kitchen/Dining: A stunning open kitchen/dining room with plenty of floor and storage space. Very well equipped with double electric oven, microwave, fridge/freezer, dishwasher, washing machine and coffee machine. There is a large table with six chairs and a lovely vintage sideboard.
Sitting Room: A light and comfortable room, overlooking the garden with views over the pastures, wall hung electric fire, two large sofas, TV and DVD Player

Cloak Room: Accessed from the entrance hall, it has a hand basin and W/C

There is a high chair and travel cot in the property along with childrens tableware, a step stool and a potty.
First Floor
The stairs are straight, not steep and have a handrail.
Bedroom 1: A spacious room overlooking the front of the property with a king size bed, bedside tables with lamps and a wardrobe.
Bedroom 2: Lovely room overlooking the garden with double bed, beside tables with lamps, mirrored chest of drawers and built in wardrobe.
Ensuite shower room: with hand basin, W/C and enclosed shower.
Bedroom 3: Light room at the back of the property with two single beds and a chest of drawers.
Bathroom: Bath, W/C, double sinks and separate shower.
Outside
The rear garden is semi-enclosed as the wall is quite low. It has excellent views with a patio area which has garden furniture and a barbecue.

Guests also have access to the communal woodlands providing an exciting place for children and adults alike to explore. Please note there is an unenclosed pond in the woodland.

There are two marked parking spaces in the vicarage car park.

Please note there is a private right of way for neighbours over the bottom of the garden.
Photos
TIP: Click photo to enlarge, then click NEXT and PREV to navigate
| | | | |
| --- | --- | --- | --- |
| Front | Front | Driveway | Entrance |
| Living area | Living area with stairs | Living area | Comfy sofas |
| Living area mirror | Kitchen/dining area | Appliances | Kitchen/dining |
| Open plan | Dining table | Kitchen | Dining to entrance |
| Landing | Landing to bedroom 2 | Bed 1 | Bedroom 1 |
| Bedroom 1 | Bedroom 2 | Bed 2 | Bedroom 2 to ensuite |
| | | Ensuite | Bed 2 |
| Ensuite | Bedroom 3 | Bedroom 3 | Bathroom |
| His n hers sinks | Bathroom | Bathroom | Shower |
| Patio | Garden | Paddocks behind | Paddocks behind |
| Horses | Garden | Garden | Patio doors |
| View to garden | Looking down | Bay tree cottage | Door knocker |
Location
Just four miles from Wells-next-the-Sea, on the banks of the River Stiffkey, is Walsingham, with a long history of religious pilgrimage and wealth of historic buildings.
The history of Walsingham and its pilgrimages began in the 11th century with the visions of the Virgin Mary by the lady Walsingham, Richeldis de Faverches. She requested that a replica of the Holy House at Nazareth be built at Walsingham. This became 'England's Nazareth', a place of prayer and reconciliation and one of Europe's four great pilgrim places in the Middle Ages. The pilgrimage season at Walsingham runs from Easter to the end of October.
In the village, you can see many 14th and 15th century buildings. One of these is now The Shirehall Museum, Walsingham's Georgian Courtroom where you can discover more of Walsingham's amazing history since 1061.
Through the museum is the entrance to the Priory Gardens where you'll find the impressive twin turreted 13th century arch, the remains of the medieval priory surrounded by stunning gardens with seasonal flowers. Visit the Walsingham Abbey Grounds, in February and be treated to its shower of snowdrops.
Just a short walk from the museum is Walsingham Bridewell, or House of Correction set up in 1598 (it was rebuilt in the 18th century), standing on the site of the former leper hospital. It housed beggars and vagrants and trained them in trades; it is almost completely unaltered since the last prisoners were freed!
You can find plenty of shops in the pretty village including tea rooms and cafes. Walsingham is also home to the Wells & Walsingham Light Railway, said to be the longest 10-and-a-quarter inch narrow-gauge steam railway in the world.
The village is well worth a visit and is ideally situated close to award winning beaches.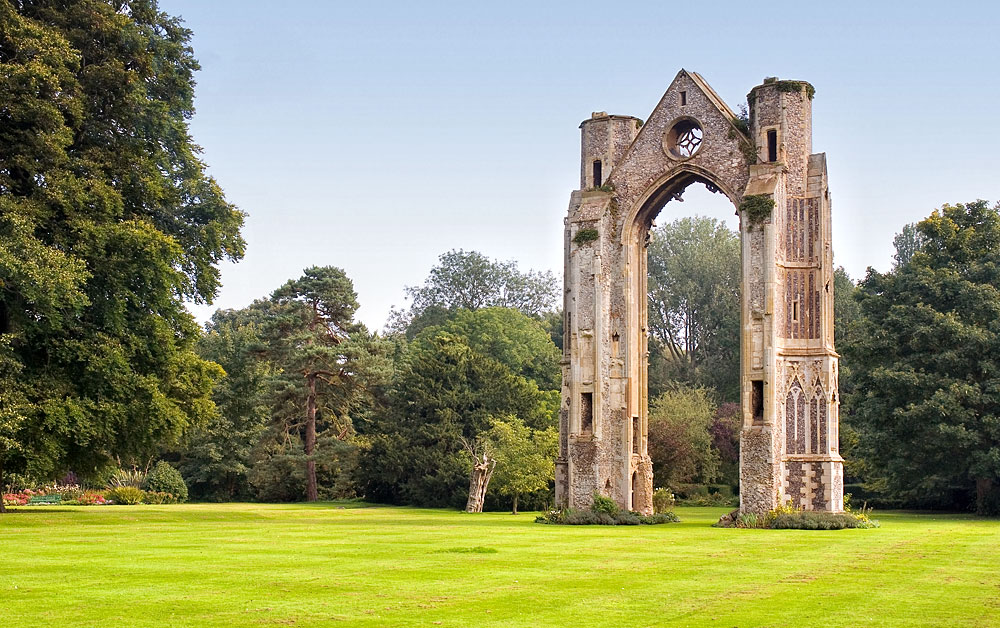 If you would like to see more of our holiday homes in and around the Norfolk coastal town of Walsingham, please click here.
Prices
Short Breaks
3 night break: 70% of full week price
4 night break: 80% of full week price
5 night break: 90% of full week price
3/4/5 day short breaks are not usually available during school holiday periods.
Prices may be subject to change.
Please note that where dogs are permitted the standard charge is £20.00 per week or part week; however some cottage owners request a higher amount and this will be specified in the individual property description.
| From | To | Price | Notes |
| --- | --- | --- | --- |
| Fri 12 Jul 2019 | Thu 29 Aug 2019 | £1105 / week | |
| Fri 30 Aug 2019 | Thu 12 Sep 2019 | £995 / week | |
| Fri 13 Sep 2019 | Thu 26 Sep 2019 | £865 / week | |
| Fri 27 Sep 2019 | Thu 17 Oct 2019 | £815 / week | |
| Fri 18 Oct 2019 | Thu 24 Oct 2019 | £865 / week | |
| Fri 25 Oct 2019 | Thu 19 Dec 2019 | £555 / week | |
| Fri 20 Dec 2019 | Thurs 2 Jan 2020 | £1105 / week | |
| Fri 3 Jan 2020 | Thu 26 Mar 2020 | £555 / week | |
| Fri 27 Mar 2020 | Thu 16 Apr 2020 | £815 / week | |
| Fri 17 Apr 2020 | Thu 21 May 2020 | £705 / week | |
| Fri 22 May 2020 | Thu 28 May 2020 | £995 / week | |
| Fri 29 May 2020 | Thu 25 Jun 2020 | £705 / week | |
| Fri 26 Jun 2020 | Thu 9 Jul 2020 | £905 / week | |
| Fri 10 Jul 2020 | Thu 3 Sep 2020 | £1105 / week | |
| Fri 4 Sep 2020 | Thu 10 Sep 2020 | £995 / week | |
| Fri 11 Sep 2020 | Thu 24 Sep 2020 | £815 / week | |
| Fri 25 Sep 2020 | Thu 15 Oct 2020 | £705 / week | |
| Fri 16 Oct 2020 | Thu 29 Oct 2020 | £815 / week | |
| Fri 30 Oct 2020 | Fri 18 Dec 2020 | £555 / week | |
| Sat 19 Dec 2020 | Mon 4 Jan 2021 | £1105 / week | |